qonnect®
qonnect® is your omnichannel platform that helps you build healthy, loyal customer relationships to boost revenue.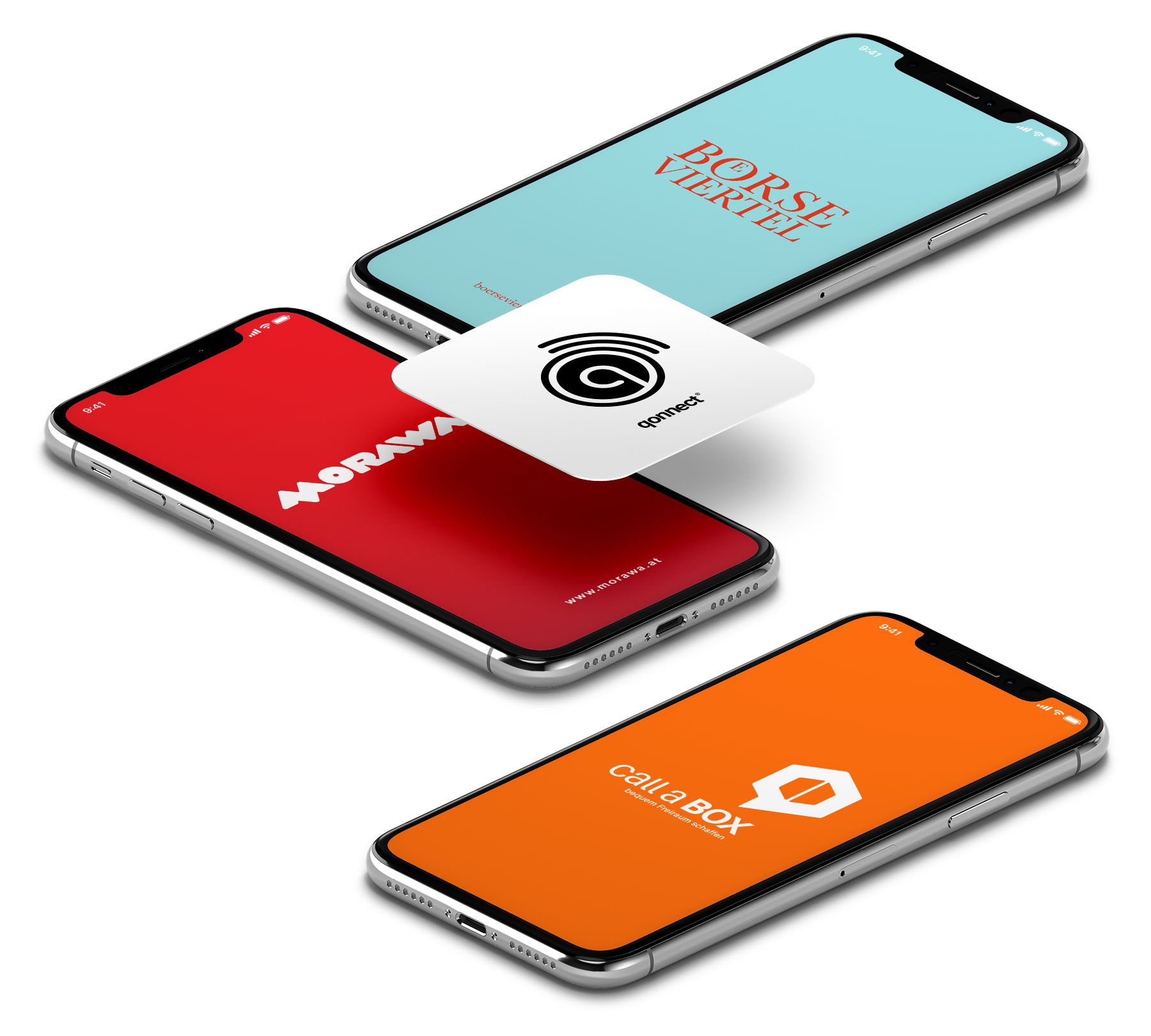 Mobile service and customer engagement
With qonnect®, brands and retailers can create new mobile moments on their customers journey. It enables them to reach their customers in the right moment with information they need. qonnect® uses mobile web, progressive Web Apps, native Apps, push notifications, geolocation, chatbots, smart speakers and interactive displays to help reaching revenue goals and to simplify mobile engagement. Detailed Statistics help to learn and improve campaigns.
Tailor made messaging while respecting privacy
What sounds like a contradiction is actually one of the main qualities of qonnect®. To provide the customer the best possible hurdle free experience, we removed the registration process and replaced it with the freedom of choice. Through qonnect® the customers tell the brand or retailer what they are interested in and therefor provide the means for personalised messages. To enable more personalisation the platform collects and processes all relevant data to achieve the maximum impact.
Together strong
Regions, cities, districts, shopping streets and shopping malls, they all have one thing in common: they represent a community of businesses (retailers / brands) that have the same goal, they want to maximise the attractively of their location to boost their revenue. Acting alone in that end endeavour might result in great costs with little impact, but acting together in that one goal the chances of success are multiplied. The qonnect® Platform offers a multi tenant solution, which provides the solution to collect and channel the marketing power of one location in one App.
Key features
A few simple steps to tangible success!
Personalized customer dialogue
#fff;">Reach your customers with the powerful interest-based campaign engine of qonnect®. Send out relevant messages at the right time to increase customer satisfaction.
Automation
#fff;">Our qonnect® RSS and Open Graph interface automatically creates messages from your website and simplifies creating engaging campaigns.
New Touchpoints
#fff;">Create new Touchpoints with the qonnect® platform. Communicate with your customer, mobile at home or on-site at the perfect time with smart push notifications, conversational interfaces (chatbots, smart speakers) or through interactive displays.
Track your success
#fff;">To make the success measurable qonnect® records every activity. The data ranges from the interests of your customers to the opening rates of push notifications.
Campaign cockpit
The Campaign Cockpit gives you full control and full measurement of all your campaigns.
Custom form
Create your own engaging campaign with just a few clicks.
Automated content
Choose and send - automatically create campaigns straight from your website.
Statistics
Detailed statistics about the impact of your campaigns - no more guessing.
qonnect® Plattform
We offer a variety of solutions. Choose the one best fit for your business.
qonnect LIVE
Join the qonnect® community on the live qonnect® App and reach out to your customers at home and in-store. Choose between a starter, professional or enterprise packages. If you want to know more, just contact us and create own mobile customer engagement experience for your audience.
qonnect EMBEDDED
You already have an existing mobile App but not enough engagement? No problem, qonnect® embedded services (QES) is the right solution for you. We simply add qonnect® into your mobile solution and you are ready to send your messages and mobile campaigns to you customers.
qonnect custom APP
Get the most out of your mobile marketing power with your own App. Based on our qonnect® technology we can craft your tailor made mobile engagement solution. Just contact us and tell us what you need and we'll design and implement the solution best fit for you and your business.
qonnect VOICE
Do you want to reach your customers in the most convenient way? qonnect® VOICE becomes your voice and let's your business service your customers using smart speakers like Amazon Echo or Google Home. They become your employee at your customers service.
qonnect CHAT
Chatbots are state of the art for interacting with your customers on mobile devices. qonnect® CHAT offers you the ability to drive highly engaging conversations with your customers and serve them in the most flexible way without any interruption - 24 hours a day, 365 days a year.
qonnect INTERACTIVE
Digital screens are omnipresent in physical stores and qonnect® INTERACTIVE brings them to live. You can connect with your customers using qonnect®'s innovative communication mechanisms and create a truly unique shopping experience for your customers.